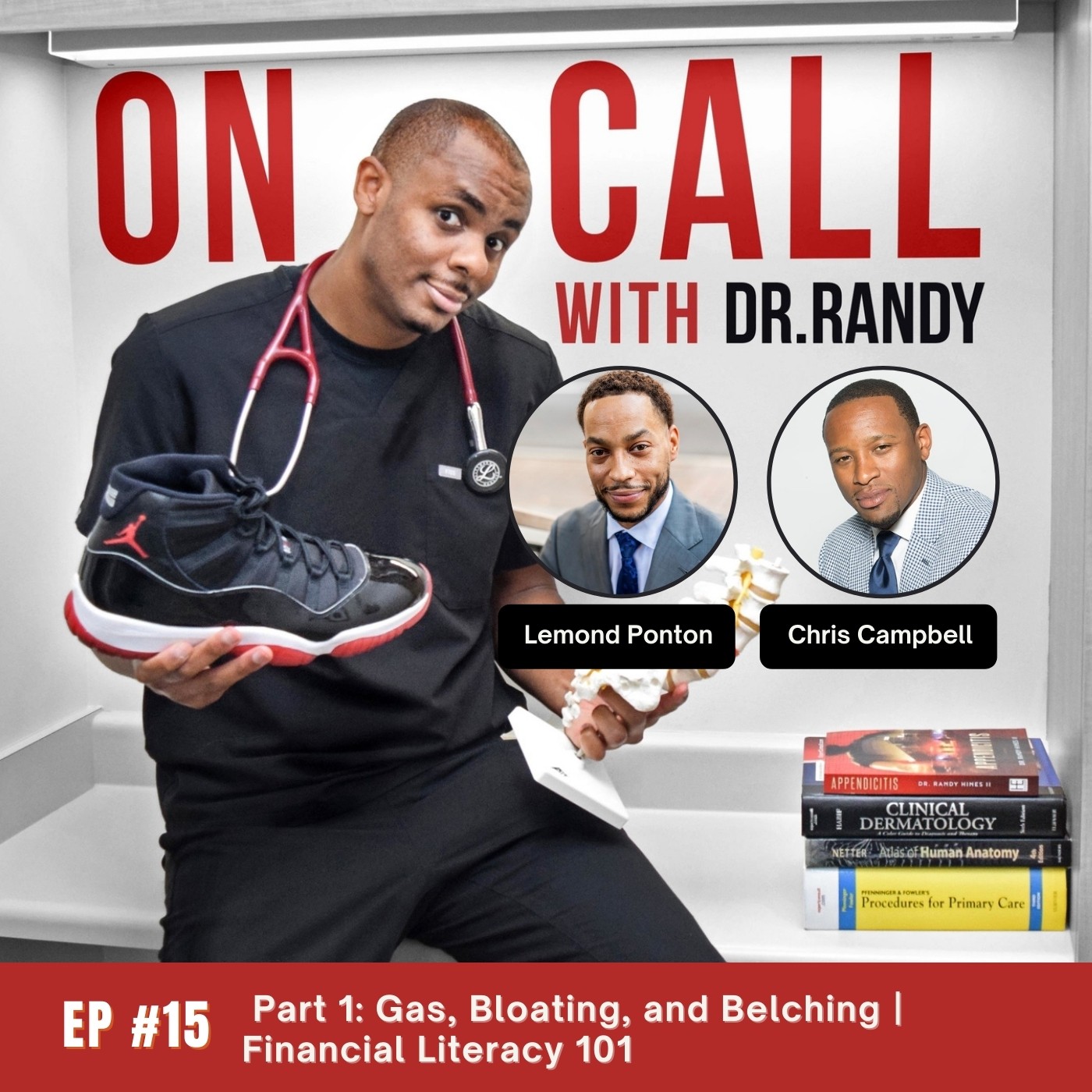 In this episode, we talk about Gas, Bloating, and Belching. We also welcome our Christopher Campbell and Lemond Ponton for Financial Literacy Month.
Christopher Campbell is a native of Gastonia, NC, and graduated Cum Laude with a BA in Economics from Morehouse College in 2006. He began his professional career building relationships with area specialty physicians as a pharmaceutical consultant and he transitioned industries and careers to join Merrill Lynch Wealth Management in 2011. Chris has over 10 years of experience working with families and business owners. 
Lemond Ponton is a Financial Advisor for Northwestern Mutual Goodwin Wright, an affiliate of Northwestern Mutual Wealth Management Company and works with Chris. He graduated Cum Laude with a BA in Business Management from Morehouse College in 2006 where he met with Christopher and has over 9 years of experience in wealth management and asset protection.
[00:01 – 03:31] Healthy People Information
Definition of bloating, gas, and belching

Symptoms and Causes

Questions you should think about
[03:32 – 10:23] Getting to Know Chris and Lemond
An insight into the topic we'll be discussing in this episode

Background of our guests for the episode

Chris Campbell

Lemond Ponton

Partnering up in 2017 to help impact their community
[10:24 – 27:04] Wealth Management
Starting a wealth management team

Managing Licenses in different categories

Broker Check

The value and access provided by Northwest Mutual

Growth of their practice

A change in perspective
[27:05 – 39:53] The Mindset of the wealthy
Lemond talks about the mindset of the wealthy

Researching and expanding your knowledge
[39:54 – 49:39] Financial Literacy
What is Financial Literacy?

The importance of financial literacy

Making sure your taxes are straight

Financial advice from Chris and Lemond
[49:40 – 51:55] Closing Segment
Follow Chris and Lemond

Watch out for Part 2!

Recap of key information discussed in the episode

Final Words

Tweetable Quotes:
"Wealth is about growth, sustainability, and Transfer." - Chris Campbell
"You have to stay grounded and keep the right perspective. A lot of times, people give up because they're looking to the left and the right. You have to win your own race." - Lemond Ponton
"Don't be focused on the result. You have to fall in love and embrace the process and everything that comes with it." - Chris Campbell
Resources and Links Mentioned:
Wilkinson, J. M., MD, Cozine, E. W., MD, & Loftus, C. G., MD. (2019). Gas, bloating, and belching: Approach to Evaluation and Management. American Family Physician, 99(5), 301-309. 
Follow Chris on Instagram(@iammrcampbell)
Follow Lemond on Instagram(@jerseylp)
To know more, you can connect with me on Instagram, Facebook, and Twitter. Also, visit my website https://hinesentertainment.com/ or email me at hinesentertainmentgrp@gmail.com 
LEAVE A REVIEW AND RATING + help someone who wants to learn more about useful health information by sharing this episode or click here to listen to more episodes.